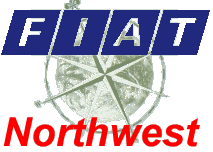 The Northwest's First All Fiat Day
---
Come put faces to the email addresses at the first annual Fiat Northwest event!
Gather with Fiat enthusiasts from all over the country. Finally a chance to show off that project in the garage that your wife just doesn't understand.
The Date: September 6th, 1997
The Place: Portland, Oregon's Gabriel Park
What's Happening:
The first ever Auto-Biography: Share your own points of pride, and get custom advice from Fiat enthusiasts. All entries will be subjected to grueling inspection and applause from a distinguished panel of Fiat enthusiasts.
Contests: Prizes will be awarded for the Best, the Worst, and the Most Incredible entry, (Most incredible is a complex formula derived from most shaky car, divided by miles travelled, multiplied by best story).
Virtual Swap Meet: Regulations in the park do not allow Flea Markets, but what's wrong with bringing pictures and doing some deal making? eh?
Impromptu drives in the Portland area: Based on interest, group drives will be offered through scenic parts of the area. If there is enough participation, TV news coverage may happen.
Formation and First Meeting of the new Fiat Enthusiasts organization (name T.B.D.)
Plan on a Bring yo'own BBQ, or picnic that afternoon.
For those needing accomodations:
The Mallory Hotel, one of Portland's old fashioned values is recommended. It has a brand new guarded parking structure, the best breakfasts in the city, and the cheapest rates as well.

Mallory Hotel 
729 SW 15th St.
Portland, OR 97205-1906
503-223-6311

For timely updates, subscribe to the Oregon 97 mailing list.

To Subscribe to the list:

1. Send mail to majordomo@mirafiori.com.

2. Put "subscribe oregon97" in the BODY, _not_ the Subject of your message.

3. You will recieve mail in a few minutes confirming your subscription. That's it!
---
For Directions:
Check out the awesome Maps!
For specific Information, or Instructions, feel free to email Thomas Bennett (tbennett@mirafiori.com), or Eli Caul (isaac@mirafiori.com).
It's very important that any Committed Visitors RSVP with the List, or Tom- We need to plan resources properly, and your early Commitment to show up will mean a lot as we plan this event.

---
Back to the Fiat Page