I'm not planning on keeping it in the trunk. I'm just wanting to get one and keep it on hand in case one of mine ever were to crack. I realize you can buy Fiat 500 wheels similar to the Panasports but I'm sure they are not identical.
I guess I could buy two wheels slightly wider and put them on the back and tell people, "I meant to do that". As Pee Wee Herman would say....
Or buy just two of these 15" wheels and put them on the back. But I'm concerned the offset maybe different.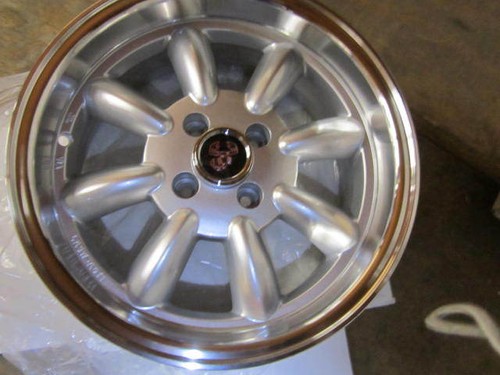 Will any of these Fiat 500 wheels work on a 124 Spider as far as offset is concerned?
Case in point:
I can't get replacement wheels for my Chevy van that the company who did the conversion used. Or even the center caps for that matter. They are plastic and one of them broke. I had to use some universal center caps I got from Summit and make a spacer to go between the wheels and hubs to make up the difference. And some new chrome lug nuts now the lug nuts are exposed.
I did some research on this Castalloy company that made the wheels. They are an aluminum casting company in Australia. Apparently they went bankrupt a few years ago. Harley Davidson contracted this company to make parts for them. Since the company had all the casts, HD decided to just buy the company rather than having to find another supplier to make their parts.