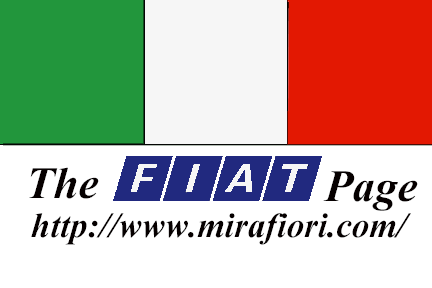 ACCESS STATISTICS
These stats are updated every hour.

*Stats are rolled every year. For reference, The Fiat Page saw 147000+ unique visits in 2003, and 840,000+ repeat hits.

This Section records traffic to the Main Page only.
---
The Fiat Page appreciates Dave Tubbs, the creator of the Statbot. I also appreciate all of you, the enthusiasts and casual visitors that make this little home-grown site fun. The Fiat Page is my favorite recreation on the Internet, and these numbers reflect the fact that Fiat enthusiasm is still very much alive!
---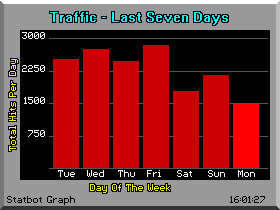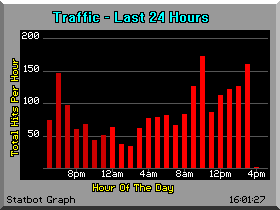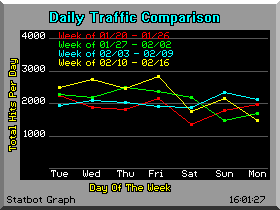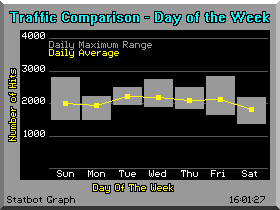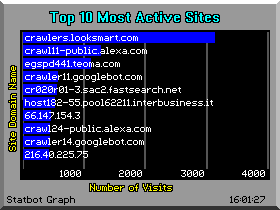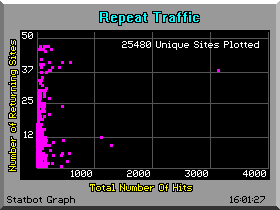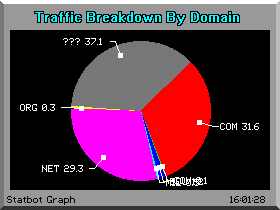 ---
These statistics include all Sites logged since: Thursday, Jan 1, 2004 - 00:00:59
These statistics last updated on: Monday, Feb 16, 2004 - 16:01:13

Unique Web site visits today: 667
Total Web site visits today: 1498

Unique Web site visits: 25480
Total Web site visits: 96710
---
Previous Day's Totals:
Web Site visits on Sunday, Feb 15: 2154
Web Site visits on Saturday, Feb 14: 1780
Web Site visits on Friday, Feb 13: 2858
Web Site visits on Thursday, Feb 12: 2487
Web Site visits on Wednesday, Feb 11: 2752
Web Site visits on Tuesday, Feb 10: 2516
---
Web Site Visits By Domain:
COM Domain: 374 Visits Today (30541 Total)
EDU Domain: 17 Visits Today (1121 Total)
GOV Domain: 3 Visits Today (121 Total)
MIL Domain: 1 Visits Today (454 Total)
NET Domain: 376 Visits Today (28293 Total)
ORG Domain: 1 Visits Today (304 Total)
Unresolved: 726 Visits Today (35876 Total)
---
Total Data Transferred:
6.80 Megabytes Today (530.78 Megabytes Total)
---
Individual Web Page Visits:
All HTML Pages: 1409 Visits Today (86397 Total)
CGI access: 89 Visits Today (10313 Total)
---
Today's Visitor List:
0-1pool87-183.nas5.lansing2.mi.us.da.qw
0x3e42a505.adsl.cybercity.dk (Denmark)
0x3ef384e0.bynxx3.adsl.tele.dk (Denmark): 2 Visits Today (2 Total)
104-15.dial.infosky.net
119tdev09.codetel.net.do (Dominican Republic)
12-221-42-116.client.insightbb.com
12-223-88-34.client.insightbb.com: 2 Visits Today (17 Total)
12.111.178.19
12.126.52.190: 1 Visit Today (23 Total)
12.19.166.201
128.164.159.165
131.104.52.47: 1 Visit Today (13 Total)
133.66.192.216: 2 Visits Today (20 Total)
134.130.23.130
136.82.mariettafiber.net
137.49.25.163: 8 Visits Today (8 Total)
139.94.160.50: 2 Visits Today (2 Total)
141.215.3.6
142.25.97.159
144.138.141.166
149.168.174.18: 1 Visit Today (2 Total)
151.152.101.42: 1 Visit Today (7 Total)
151.99.208.236
159-134-149-80.as1.wtd.waterford.eircom
159-134-58-190.as1.dla.dublin.eircom.ne (Niger): 2 Visits Today (2 Total)
162.90.97.61: 4 Visits Today (17 Total)
163.5.255.81
168.226.45.98: 3 Visits Today (13 Total)
178.dallas-39rh16rt.tx.dial-access.att.
179.d.010.mel.iprimus.net.au (Australia): 3 Visits Today (3 Total)
192-61-22570.unisys.com
193.183.16.24
193.210.145.13
193.210.65.69
193.77.203.163: 2 Visits Today (2 Total)
194.152.85.211
194.184.35.42
194.216.219.211: 1 Visit Today (6 Total)
194.217.231.252
194.236.69.49
195.219.172.4
195.250.105.254: 8 Visits Today (8 Total)
195.252.98.186: 10 Visits Today (10 Total)
195.29.206.131: 5 Visits Today (5 Total)
195.66.187.95: 4 Visits Today (4 Total)
198.64.140.108: 5 Visits Today (47 Total)
1cust181.tnt25.bos2.da.uu.net
1cust89.tnt3.olympia.wa.da.uu.net
200-70-167-184.mrse.com.ar (Argentina)
200.21.18.6
200.21.21.84: 13 Visits Today (13 Total)
200.27.145.147: 1 Visit Today (26 Total)
200.51.173.66: 1 Visit Today (12 Total)
200.55.53.178
200.81.197.211: 3 Visits Today (3 Total)
202.108.249.188
202.108.249.189
202.164.37.230
202.74.145.27
203.116.61.131
203.122.69.59
203.123.69.212
203.127.121.87
203.134.13.194: 1 Visit Today (12 Total)
203.209.114.252
203.27.83.33
203.36.157.8: 5 Visits Today (5 Total)
204.101.196.18
204.116.15.46
204.136-201-80.adsl.skynet.be (Belgium)
204.215.190.114
205.173.58.13: 1 Visit Today (58 Total)
206.23.120.7: 4 Visits Today (6 Total)
206.29.56.194
207-5-247-141.metrocast.net: 9 Visits Today (9 Total)
207.160.149.133
207.190.220.99
207.236.193.90
207.238.101.61: 5 Visits Today (5 Total)
207.61.57.35
208.22.37.49: 1 Visit Today (43 Total)
209-165-56-106.jps.net
209-209-18-134.oak.inreach.net
209-209-20-102.oak.inreach.net
209-94-15-132.ga.verio.net
209.173.8.170: 2 Visits Today (2 Total)
209.246.60.179: 1 Visit Today (48 Total)
21.75-201-80.adsl.skynet.be (Belgium): 2 Visits Today (2 Total)
21.cleveland-04-05rs.oh.dial-access.att
212.158.233.91: 2 Visits Today (2 Total)
212.183.13.231: 1 Visit Today (2 Total)
212.213.178.10
212.251.9.200: 6 Visits Today (6 Total)
212.254.201.146
212.36.16.9: 15 Visits Today (15 Total)
212.50.2.56: 2 Visits Today (2 Total)
213-168-0-11-ppp.noe.estpak.ee (Estonia): 22 Visits Today (22 Total)
213-240-196-172.ddns.cablebg.net
213.140.19.203
213.140.22.73: 1 Visit Today (21 Total)
213.151.217.74: 2 Visits Today (2 Total)
213.208.61.2: 1 Visit Today (2 Total)
213.249.229.58: 1 Visit Today (2 Total)
216-120-216-178.gen.twtelecom.net: 3 Visits Today (3 Total)
216-203.adsl.net.hinet.hr (Croatia)
216-63-159-216.ccias.com
216.111.137.222
216.113.128.225: 1 Visit Today (33 Total)
216.123.247.74: 2 Visits Today (74 Total)
216.13.66.210: 2 Visits Today (2 Total)
216.200.251.39.reverse.not.updated.abov: 5 Visits Today (18 Total)
216.208.39.66: 1 Visit Today (125 Total)
216.236.216.24: 6 Visits Today (6 Total)
216.239.37.5: 2 Visits Today (135 Total)
216.239.39.5: 4 Visits Today (213 Total)
216.33.229.163: 1 Visit Today (27 Total)
216.56.19.35: 1 Visit Today (14 Total)
217.118.107.165: 1 Visit Today (5 Total)
217.166.66.114
217.204.113.235
217.207.246.18: 1 Visit Today (3 Total)
217.56.222.132
217.69.120.66: 18 Visits Today (19 Total)
218-160-134-152.hinet-ip.hinet.net
219.72.254.18: 1 Visit Today (2 Total)
238.100.233.64.transedge.com
24.138.71.232: 1 Visit Today (12 Total)
24.229.92.63.cmts.tnk.ptd.net
3.222.62.62.internet9tcollecte.9massy1-
4.54.39-62.rev.gaoland.net
40.0.96.1
47.211.0.12
62-221-223-176.dsl.uwadslprovider.nl (Netherlands)
62-231-68-19.rdsnet.ro (Romania )
62.101.102.168
62.103.241.176: 11 Visits Today (11 Total)
62.135.77.204
62.190.187.6
62.215.3.62: 1 Visit Today (2 Total)
62.233.189.126
62.248.36.175
62.48.225.98
62.58.39.100
62.59.191.148: 5 Visits Today (5 Total)
62.68.238.36: 5 Visits Today (5 Total)
62.7.226.248
63.170.80.133: 2 Visits Today (11 Total)
64.241.243.66: 2 Visits Today (55 Total)
64.38.234.227: 1 Visit Today (28 Total)
64.5.23.253: 2 Visits Today (71 Total)
64.6.2.194.outfitters.com
65.163.87.5: 1 Visit Today (2 Total)
65.201.16.11
65.201.52.50: 1 Visit Today (2 Total)
65.89.138.189: 3 Visits Today (93 Total)
66-196-0-56.vvm.com
66-215-94-109.pas-eres.charterpipeline.: 4 Visits Today (4 Total)
66-243-11-210.focaldata.net
66-72-138-241.peppmc.com: 1 Visit Today (2 Total)
66.170.194.11: 1 Visit Today (31 Total)
66.182.175.234
67-51-221-175.bras01.nor.ny.frontiernet
69.156.227.45
75-55-29.dial.terra.cl (Chile): 2 Visits Today (2 Total)
80-235-32-140-dsl.mus.estpak.ee (Estonia): 2 Visits Today (2 Total)
80.102.4.87
80.168.129.170: 2 Visits Today (2 Total)
80.198.90.245
80.234.160.28
80.242.24.17
80.45.183.144
80.48.19.2: 32 Visits Today (32 Total)
80.58.1.45.proxycache.rima-tde.net: 2 Visits Today (10 Total)
80.58.20.109.proxycache.rima-tde.net
80.58.43.170.proxycache.rima-tde.net: 1 Visit Today (2 Total)
80.58.51.170.proxycache.rima-tde.net
80.58.9.107.proxycache.rima-tde.net: 1 Visit Today (6 Total)
80.65.65.82
81.168.105.13: 1 Visit Today (3 Total)
81.19.46.78
81.93.75.129: 4 Visits Today (4 Total)
82-43-52-126.cable.ubr03.croy.blueyonde
82-44-200-17.cable.ubr08.haye.blueyonde: 2 Visits Today (2 Total)
82.137.49.22
82.76.98.9: 1 Visit Today (4 Total)
83.unused.zianet113.gwi.bz (Belize)
99.indianapolis-24rh16rt.in.dial-access
a113-175.dialup.iol.cz (Czech Republic)
a196-168.dialup.iol.cz (Czech Republic)
a212-113-189-34.netcabo.pt (Portugal)
a80-127-205-29.adsl.xs4all.nl (Netherlands)
ac886b9b.ipt.aol.com
aca86bd4.ipt.aol.com
acb214ee.ipt.aol.com
acbaabd0.ipt.aol.com
acbf649e.ipt.aol.com
acs-24-154-201-151.zoominternet.net: 2 Visits Today (2 Total)
ad10-m171.net.hinet.hr (Croatia)
ad19-m40.net.hinet.hr (Croatia)
adams.lcspub.psu.edu
admin.vengence.net: 1 Visit Today (11 Total)
adsl-068-153-255-029.sip.owb.bellsouth.
adsl-200-105-159-190.acelerate.com
adsl-209-204-188-15.sonic.net: 3 Visits Today (85 Total)
adsl-209-78-210-97.dsl.lsan03.pacbell.n
adsl-214-125-100.gnv.bellsouth.net
adsl-29-222-fixip.tiscali.ch (Switzerland)
adsl-35-152-91.clt.bellsouth.net: 1 Visit Today (8 Total)
adsl-62-167-215-205.adslplus.ch (Switzerland): 5 Visits Today (5 Total)
adsl-62-167-61-241.adslplus.ch (Switzerland)
adsl-63-198-19-15.dsl.chic01.pacbell.ne (Niger): 1 Visit Today (10 Total)
adsl-64-109-249-198.dsl.chcgil.ameritec
adsl-64-167-151-130.dsl.snfc21.pacbell.
adsl-65-43-86-158.dsl.ipltin.ameritech.
adsl-66-73-172-27.dsl.chcgil.ameritech.: 12 Visits Today (12 Total)
adsl-67-114-253-153.dsl.lsan03.pacbell.
adsl-67-116-51-17.dsl.sntc01.pacbell.ne (Niger)
adsl-68-120-100-108.dsl.sntc01.pacbell.: 2 Visits Today (2 Total)
adsl-68-122-238-185.dsl.pltn13.pacbell.
adsl-68-125-26-143.dsl.irvnca.pacbell.n
adsl-68-22-197-159.dsl.chcgil.ameritech: 13 Visits Today (13 Total)
adsl-68-72-80-205.dsl.chcgil.ameritech.
adsl-68-89-45-195.dsl.hstntx.swbell.net
adsl-68-90-42-101.dsl.hstntx.swbell.net: 2 Visits Today (2 Total)
adsl254-teco.via-net-works.net.ar (Argentina): 2 Visits Today (2 Total)
alagny-113-1-1-47.w81-250.abo.wanadoo.f: 2 Visits Today (2 Total)
alb-24-195-204-216.nycap.rr.com
amcproxy.jccbi.gov: 2 Visits Today (3 Total)
america.csi.it (Italy): 9 Visits Today (23 Total)
amphibiousconstruction.com
anevar.kappa.ro (Romania ): 8 Visits Today (8 Total)
animals.ssg.petsmart.com: 2 Visits Today (2 Total)
ao2-m158.net.hinet.hr (Croatia)
appleshare.premier-press.com
ar1-m212.net.hinet.hr (Croatia)
ar5-m65.net.hinet.hr (Croatia): 6 Visits Today (6 Total)
ar7-m47.net.hinet.hr (Croatia)
as5-m121.net.hinet.hr (Croatia): 4 Visits Today (4 Total)
as7-m54.net.hinet.hr (Croatia): 5 Visits Today (5 Total)
as8r8-187.ras.cha.cantv.net: 13 Visits Today (13 Total)
astound-64-85-229-95.ca.astound.net
at09-m271.net.hinet.hr (Croatia): 11 Visits Today (11 Total)
athe535-b228.otenet.gr (Greece): 2 Visits Today (2 Total)
ba018192.user.veloxzone.com.br (Brazil): 2 Visits Today (2 Total)
bbcache-15.singnet.com.sg (Singapore): 1 Visit Today (3 Total)
bbcache-8.singnet.com.sg (Singapore): 1 Visit Today (2 Total)
bbcache-9.singnet.com.sg (Singapore): 1 Visit Today (3 Total)
bgp01382993bgs.montbl01.nm.comcast.net: 3 Visits Today (3 Total)
bi-02pt1.bluebird.ibm.com: 2 Visits Today (15 Total)
bi01p1.nc.us.ibm.com: 9 Visits Today (25 Total)
bigip1a-snat.sv.av.com: 2 Visits Today (202 Total)
bo-008.ptt.yu (Yugoslavia): 2 Visits Today (2 Total)
boise-dial-pool-216-190-108-161.ispnetb
boris.teol.net: 5 Visits Today (5 Total)
bottle.gla.ac.uk (United Kingdom)
bv1-24.207.186.81.charter-stl.com: 1 Visit Today (11 Total)
bye3640-3.a42.byelectric.com
c-12-4.fx.ro (Romania ): 1 Visit Today (2 Total)
c-24-1-231-165.client.comcast.net: 3 Visits Today (3 Total)
c-24-10-108-169.client.comcast.net
c-24-10-12-153.client.comcast.net
c-24-2-222-145.client.comcast.net: 2 Visits Today (2 Total)
c-24-99-125-43.atl.client2.attbi.com
c-66-177-71-10.se.client2.attbi.com
c-67-160-94-134.client.comcast.net
c-67-161-184-57.client.comcast.net
c-67-161-244-38.client.comcast.net
c-67-164-61-123.client.comcast.net
c-67-167-154-63.client.comcast.net
c1.aici.com
c136069.adsl.hansenet.de (Germany): 1 Visit Today (3 Total)
ca-esanf-vn114b-30.vnnyca.adelphia.net
ca-ontario-cuda3a-l-109.anhmca.adelphia: 2 Visits Today (26 Total)
ca1462-ch01-bl03.ma-cambridg0.sa.earthl: 1 Visit Today (3 Total)
ca1462-ch01-bl04.ma-cambridg0.sa.earthl
cable194a146.usuarios.retecal.es (Spain): 12 Visits Today (12 Total)
cache-dc06.proxy.aol.com: 1 Visit Today (8 Total)
cache-dc07.proxy.aol.com: 1 Visit Today (24 Total)
cache-dl05.proxy.aol.com: 1 Visit Today (15 Total)
cache-dl07.proxy.aol.com: 1 Visit Today (2 Total)
cache-dl08.proxy.aol.com: 1 Visit Today (11 Total)
cache-dm06.proxy.aol.com: 1 Visit Today (3 Total)
cache-dm11.proxy.aol.com: 1 Visit Today (3 Total)
cache-dm12.proxy.aol.com: 1 Visit Today (3 Total)
cache-dq03.proxy.aol.com: 1 Visit Today (22 Total)
cache-dr06.proxy.aol.com: 1 Visit Today (3 Total)
cache-dr10.proxy.aol.com: 1 Visit Today (28 Total)
cache-frr-aa03.proxy.aol.com: 1 Visit Today (4 Total)
cache-frr-ab01.proxy.aol.com: 1 Visit Today (5 Total)
cache-frr-ae07.proxy.aol.com: 1 Visit Today (5 Total)
cache-frr-af10.proxy.aol.com
cache-loh-aa01.proxy.aol.com: 2 Visits Today (18 Total)
cache-loh-aa02.proxy.aol.com: 1 Visit Today (7 Total)
cache-loh-aa03.proxy.aol.com: 2 Visits Today (19 Total)
cache-loh-aa05.proxy.aol.com: 2 Visits Today (21 Total)
cache-loh-aa06.proxy.aol.com: 1 Visit Today (10 Total)
cache-loh-aa07.proxy.aol.com: 1 Visit Today (6 Total)
cache-loh-ab02.proxy.aol.com: 2 Visits Today (6 Total)
cache-loh-ab06.proxy.aol.com: 1 Visit Today (8 Total)
cache-loh-ab07.proxy.aol.com: 1 Visit Today (4 Total)
cache-loh-ab08.proxy.aol.com: 1 Visit Today (7 Total)
cache-loh-ac01.proxy.aol.com: 3 Visits Today (9 Total)
cache-loh-ac04.proxy.aol.com: 1 Visit Today (7 Total)
cache-loh-ac08.proxy.aol.com: 2 Visits Today (14 Total)
cache-mtc-ac01.proxy.aol.com: 1 Visit Today (3 Total)
cache-mtc-ac10.proxy.aol.com: 1 Visit Today (2 Total)
cache-mtc-ad10.proxy.aol.com
cache-mtc-ah02.proxy.aol.com: 1 Visit Today (3 Total)
cache-mtc-ak07.proxy.aol.com
cache-mtc-al09.proxy.aol.com: 1 Visit Today (9 Total)
cache-mtc-am06.proxy.aol.com: 1 Visit Today (3 Total)
cache-ntc-aa05.proxy.aol.com: 1 Visit Today (22 Total)
cache-rf05.proxy.aol.com: 1 Visit Today (8 Total)
cache-rq02.proxy.aol.com: 1 Visit Today (19 Total)
cache02.lax.untd.com: 1 Visit Today (4 Total)
cache10.drkw.com
cache2-winn.server.ntli.net: 1 Visit Today (9 Total)
cache2.att.sch.gr (Greece): 5 Visits Today (23 Total)
cache3-brhm.server.ntli.net: 2 Visits Today (17 Total)
cache3-glfd.server.ntli.net: 3 Visits Today (22 Total)
cache4-cdif.server.ntli.net: 1 Visit Today (19 Total)
cache4-midd.server.ntli.net: 1 Visit Today (38 Total)
cache5.elion.ee (Estonia): 2 Visits Today (3 Total)
cache6-nott.server.ntli.net: 2 Visits Today (39 Total)
cc231392-a.deven1.ov.home.nl (Netherlands)
cdm-68-226-234-102.lkch.cox-internet.co (Colombia): 2 Visits Today (2 Total)
cflo-ext2.basf-corp.com: 2 Visits Today (3 Total)
client-82-3-80-138.mant.adsl.virgin.net
client-82-3-86-190.mant.adsl.virgin.net
cm-conc2-129-201.cm.vtr.net: 6 Visits Today (6 Total)
cmung2219.cmu.carnet.hr (Croatia)
cmung2416.cmu.carnet.hr (Croatia)
cmung2436.cmu.carnet.hr (Croatia): 3 Visits Today (3 Total)
cmung2710.cmu.carnet.hr (Croatia): 3 Visits Today (3 Total)
cmung3415.cmu.carnet.hr (Croatia): 3 Visits Today (3 Total)
cmung3437.cmu.carnet.hr (Croatia): 2 Visits Today (2 Total)
cmung3793.cmu.carnet.hr (Croatia): 4 Visits Today (4 Total)
cmung4338.cmu.carnet.hr (Croatia)
cmung4776.cmu.carnet.hr (Croatia)
cmung686.cmu.carnet.hr (Croatia): 5 Visits Today (5 Total)
cmung831.cmu.carnet.hr (Croatia): 4 Visits Today (4 Total)
cmung90.cmu.carnet.hr (Croatia): 6 Visits Today (6 Total)
content55.wxs.nl (Netherlands)
core-0-0-dfw-csg01-2.leasenet.net
cox-66-210-134-5.coxinet.net
cpc1-ward1-5-0-cust177.mant.cable.ntl.c
cpe-069-132-101-220.carolina.rr.com: 3 Visits Today (3 Total)
cpe-24-159-173-237.spa.sc.charter.com: 19 Visits Today (40 Total)
cpe-24-243-105-93.stx.rr.com
cpe-24-31-34-254.socal.rr.com
cpe-24-31-37-77.socal.rr.com: 1 Visit Today (3 Total)
cpe-65-25-161-34.wi.rr.com: 2 Visits Today (2 Total)
cpe-65-28-41-74.kc.rr.com
cpe-65-31-234-136.neb.rr.com
cpe-66-191-192-084.spa.sc.charter.com
cpe-66-74-20-88.dc.rr.com
cpe.atm0-0-0-1201094.0x503fcfb2.albnxx2
cpe.atm2-0-105279.0x3ef24615.arcnxx10.c: 3 Visits Today (21 Total)
cpe00e0982900fb-cm000a739ab1f3.cpe.net.
crawler14.googlebot.com: 1 Visit Today (443 Total)
crawlers.looksmart.com: 105 Visits Today (3136 Total)
cs2431-224.austin.rr.com
cs78131222.pp.htv.fi (Finland)
cuppacoffee.co.uk (United Kingdom): 1 Visit Today (3 Total)
customer160-122.iplannetworks.net
cw04.b1.srv.t-online.de (Germany)
d-ip-129-15-214-249.wireless.ou.edu: 2 Visits Today (92 Total)
d-os1-087.globalnet.hr (Croatia)
d-zg1-183.globalnet.hr (Croatia): 3 Visits Today (3 Total)
d-zg2-016.globalnet.hr (Croatia)
d1-164.rb.sm.centurytel.net
d154-5-196-14.bchsia.telus.net
d209-121-27-202.bchsia.telus.net: 5 Visits Today (49 Total)
d2539a.resnet.uni.edu
d57-213-107.home.cgocable.net: 1 Visit Today (19 Total)
d66-183-161-2.bchsia.telus.net: 1 Visit Today (2 Total)
d80-170-205-142.cust.tele2.fr (France)
d933f.d.pppool.de (Germany)
dar-ts1-2500.tpgi.com.au (Australia)
dblt-aa032.gtcom.net
dgrasso.dipchi.unict.it (Italy)
dh96-179.xnet.hr (Croatia): 3 Visits Today (3 Total)
dhcp-153-96-98-65.ipms.fraunhofer.de (Germany): 5 Visits Today (5 Total)
dhcp024-210-132-148.woh.rr.com
di-gate.di.dk (Denmark)
dial-253.r41.scrchl.infoave.net
dial-8.r21.scrchl.infoave.net
dial-in-66-159-217-231.dslextreme.com
dial81-135-90-89.in-addr.btopenworld.co (Colombia): 2 Visits Today (2 Total)
dialup-171.75.236.251.dial1.saintlouis1
dialup-178.caloundra.net
dialup-209.244.93.23.dial1.dallas1.leve
dialup-65.58.163.172.dial1.princeton1.l
dialup-65.59.81.185.dial1.tampa1.level3
dialup-67.25.71.251.dial1.providence1.l
dialup-67.28.54.233.dial1.princeton1.le
dialup-67.74.90.205.dial1.philadelphia1
dialup022140.nmu.edu
dialupa-177.baana.phpoy.fi (Finland): 3 Visits Today (3 Total)
dpvc-68-162-219-230.bos.east.verizon.ne (Niger): 1 Visit Today (4 Total)
drone11.sv.av.com: 1 Visit Today (57 Total)
drone2.sv.av.com: 1 Visit Today (98 Total)
drone3.sv.av.com: 2 Visits Today (139 Total)
drone7.sv.av.com: 2 Visits Today (118 Total)
drone8.sv.av.com: 1 Visit Today (99 Total)
drone9.sv.av.com: 2 Visits Today (169 Total)
dsl-201-128-3-19.prod-infinitum.com.mx (Mexico): 2 Visits Today (2 Total)
dsl-209-205-187-142.i-55.com: 2 Visits Today (2 Total)
dsl-xx-105.kotikaista.weppi.fi (Finland): 3 Visits Today (3 Total)
dsl01.212.114.233.20.nefkom.net
dslam249-24-166-62.adsl.zonnet.nl (Netherlands): 1 Visit Today (36 Total)
dyn-212-47-228-166.ppp.tiscali.fr (France): 9 Visits Today (9 Total)
dyn-213-36-24-50.ppp.tiscali.fr (France): 2 Visits Today (2 Total)
dyn-sch-230-67.dyn.columbia.edu
dync204.aca.oakland.edu
emea-netcache1.oracle.co.uk (United Kingdom)
enskifteshagen-122-73.ip-pluggen.com
fadelp01.flexaust-ep.com
fch.vutbr.cz (Czech Republic)
fw-33.121.chattanoogastate.edu
fw.linearossa.com: 1 Visit Today (13 Total)
gate2.dfait-maeci.gc.ca (Canada): 1 Visit Today (25 Total)
gateway.unab.cl (Chile)
gateway102.gsi.gov.uk (United Kingdom): 1 Visit Today (2 Total)
gepard.hac.hr (Croatia): 1 Visit Today (10 Total)
gigablast.com: 1 Visit Today (5 Total)
gso31-98-142.triad.rr.com: 11 Visits Today (17 Total)
h-64-105-55-122.miatflad.covad.net
h-66-166-251-63.dnvtco56.dynamic.covad.
h-66-167-189-94.hstqtx02.dynamic.covad.
h-66-167-204-93.snvacaid.dynamic.covad.
h-66-167-71-186.chcgilgm.dynamic.covad.
h-68-165-66-106.snvacaid.dynamic.covad.
h00050213b1a5.ne.client2.attbi.com
h00095b2256a5.ne.client2.attbi.com
h002078c8df31.ne.client2.attbi.com: 3 Visits Today (3 Total)
h132.128.meer.net: 1 Visit Today (7 Total)
h210n2fls31o881.telia.com
h24-70-65-243.ca.shawcable.net: 3 Visits Today (3 Total)
h91n1fls34o874.telia.com
harness.ggy.uga.edu: 1 Visit Today (3 Total)
host-209-214-131-160.jax.bellsouth.net
host-213-131-84-69.link.com.eg (Egypt)
host-216-118-213-62.msi-it.com
host-216-76-232-63.hsv.bellsouth.net
host-62-141-197-197.swidnica.mm.pl (Poland)
host-62-241-153-45.link.com.eg (Egypt)
host-64-110-100-67.interpacket.net: 2 Visits Today (215 Total)
host-65-116-221-179.univenture.com
host-66-81-113-193.rev.o1.com
host-69-19-151-154.rev.o1.com: 7 Visits Today (7 Total)
host-83b14c7e.valpa.sonera.fi (Finland)
host-c1e7067f.tuiasi.ro (Romania )
host-sa275.res.openband.net: 1 Visit Today (27 Total)
host120-125.pool80182.interbusiness.it (Italy)
host148-158.pool80180.interbusiness.it (Italy)
host173.200-82-0.telecom.net.ar (Argentina): 3 Visits Today (3 Total)
host185.200-43-249.telecom.net.ar (Argentina)
host195-136-17-2.in-addr.octava.net.pl (Poland): 6 Visits Today (6 Total)
host213-122-211-127.in-addr.btopenworld
host217-42-24-216.range217-42.btcentral
host217-43-73-179.range217-43.btcentral
host254.commhospindy.org: 1 Visit Today (71 Total)
host35-149.pool8289.interbusiness.it (Italy): 8 Visits Today (8 Total)
host38.200-117-62.telecom.net.ar (Argentina)
host52-26.pool8174.interbusiness.it (Italy): 22 Visits Today (22 Total)
host71-235.pool80116.interbusiness.it (Italy)
host78-178.pool80181.interbusiness.it (Italy): 6 Visits Today (6 Total)
host8.200-45-101.telecom.net.ar (Argentina): 4 Visits Today (4 Total)
host81-129-22-226.in-addr.btopenworld.c
host81-129-34-177.in-addr.btopenworld.c
host81-129-48-164.in-addr.btopenworld.c
host81-130-56-5.in-addr.btopenworld.com: 1 Visit Today (2 Total)
host81-132-20-182.in-addr.btopenworld.c: 3 Visits Today (3 Total)
host81-133-63-182.in-addr.btopenworld.c
host81-136-130-67.in-addr.btopenworld.c
host81-42.pool80180.interbusiness.it (Italy)
hrdcgate.nhq.hrdc-drhc.gc.ca (Canada): 3 Visits Today (4 Total)
hsa162.pool007.at001.earthlink.net
hse-london-ppp290288.sympatico.ca (Canada): 2 Visits Today (2 Total)
hse-montreal-ppp122393.qc.sympatico.ca (Canada)
hse-stcath-ppp253226.sympatico.ca (Canada): 5 Visits Today (5 Total)
httpe1.northgrum.com: 1 Visit Today (2 Total)
i-195-137-98-136.freedom2surf.net
i211-133.nv.iinet.net.au (Australia)
ibn-dialup-31.ironbay.net
inst-rolfm.arch.lth.se (Sweden): 2 Visits Today (2 Total)
ip-149-74.tvnetwork.hu (Hungary)
ip-95-66.neuviz.net.id (Indonesia)
ip216-203-236-2.z236-203-216.customer.a
ip244.coolsavings.com: 2 Visits Today (28 Total)
ip67-89-120-66.z120-89-67.customer.algx
ip68-1-190-234.ri.ri.cox.net
ip68-101-143-169.sd.sd.cox.net: 1 Visit Today (18 Total)
ip68-101-237-178.sd.sd.cox.net
ip68-110-69-146.ph.ph.cox.net: 3 Visits Today (68 Total)
ip68-225-228-62.oc.oc.cox.net
ip68-98-155-27.dc.dc.cox.net: 20 Visits Today (20 Total)
ip68-98-182-171.dc.dc.cox.net
j3100.inktomisearch.com: 3 Visits Today (8 Total)
j3142.inktomisearch.com: 1 Visit Today (5 Total)
j331.crc27.jaring.my (Malaysia): 3 Visits Today (3 Total)
jackson-66-168-144-223.midtn.chartertn.
jdlang.student.iastate.edu
jffwpr04.jf.intel.com: 1 Visit Today (7 Total)
jt11-132-2.tky.hut.fi (Finland): 13 Visits Today (94 Total)
k62home.wcmotors.com: 1 Visit Today (13 Total)
kx17.neoplus.adsl.tpnet.pl (Poland): 4 Visits Today (4 Total)
lan.iskon.hr (Croatia): 5 Visits Today (5 Total)
lsbay2.seas.smu.edu
mail-zsrp.slposta.sk (Slovakia )
mail.bournpartners.com
mail.driverguide.com: 4 Visits Today (4 Total)
mail.premier-press.com
mail.verexelto.sk (Slovakia )
max1ka-63.his.com: 4 Visits Today (4 Total)
mepclab20.isc.rit.edu
moore.ti.telenor.net: 2 Visits Today (2 Total)
mp-217-37-154.daxnet.no (Norway): 2 Visits Today (2 Total)
mrng-02-216.dsl.netins.net
mscd04r2.client.mscd.edu
mv1-24.217.147.221.charter-stl.com: 2 Visits Today (128 Total)
nano.chemie.fu-berlin.de (Germany)
nansmenas01-pool1-a14.nansme.tds.net
nat-77.troycable.net
nat-prf295.natur.cuni.cz (Czech Republic): 1 Visit Today (2 Total)
nat193016.mobtel.co.yu (Yugoslavia): 1 Visit Today (5 Total)
ncache1.ford.com
ncasse02.telenet-ops.be (Belgium): 2 Visits Today (7 Total)
nchobo03.telenet-ops.be (Belgium): 1 Visit Today (18 Total)
ncroes02.telenet-ops.be (Belgium): 1 Visit Today (10 Total)
netcache-3001.bay.webtv.net: 1 Visit Today (15 Total)
netcache-3004.bay.webtv.net: 1 Visit Today (19 Total)
newhav01-153.cshore.com
nocb.naples.navy.mil
node-d-cce3.a2000.nl (Netherlands)
ns12.pfizer.com
nt2isa01ex.eastman.com
ol59-181.fibertel.com.ar (Argentina): 2 Visits Today (2 Total)
ool-182ffae7.dyn.optonline.net: 5 Visits Today (6 Total)
ool-18bc33bc.dyn.optonline.net
ool-18be1162.dyn.optonline.net: 1 Visit Today (10 Total)
ool-18e4558d.dyn.optonline.net
ool-4355b41e.dyn.optonline.net: 1 Visit Today (23 Total)
ord-dsl122-cust112.mpowercom.net
oteaf215.246.ne.jp (Japan)
overland10k.mo24.107.7.41.charter-stl.c
p1.proxy.tpo.fi (Finland): 2 Visits Today (24 Total)
p50872040.dip0.t-ipconnect.de (Germany)
p5090d331.dip.t-dialin.net
paalto-apx-1-156-177.penn.com
parker5.att.net.co (Colombia): 13 Visits Today (13 Total)
pc1-1755.sunair.fi (Finland): 3 Visits Today (3 Total)
pcp01332814pcs.columb01.pa.comcast.net: 1 Visit Today (15 Total)
pcp02049366pcs.11thav01.fl.comcast.net
pcp02395410pcs.flint01.mi.comcast.net: 1 Visit Today (11 Total)
pcp04355371pcs.glstrt01.nj.comcast.net: 2 Visits Today (136 Total)
pcp05351179pcs.rtchrd01.md.comcast.net
pcp593526pcs.dksnco01.tn.comcast.net
pd953e979.dip.t-dialin.net: 2 Visits Today (2 Total)
pd9e419d4.dip.t-dialin.net
pd9e5ecfb.dip.t-dialin.net
pdx-ppp41.pop1.net
perry.umist.ac.uk (United Kingdom)
pezmonster.altair.com: 1 Visit Today (27 Total)
pfsr.pininfarina.it (Italy)
pg87.rzeszow.sdi.tpnet.pl (Poland): 2 Visits Today (2 Total)
pingo.fsb.hr (Croatia): 5 Visits Today (101 Total)
pool-138-89-105-62.mad.east.verizon.net: 4 Visits Today (4 Total)
pool-141-152-186-2.norf.east.verizon.ne (Niger): 2 Visits Today (2 Total)
pool-151-196-54-89.balt.east.verizon.ne (Niger)
pool-151-198-143-159.mad.east.verizon.n
pool-151-205-213-238.cap.east.verizon.n
porin.agrokor.hr (Croatia): 33 Visits Today (33 Total)
port-212-202-15-85.reverse.qsc.de (Germany)
port-213-160-14-178.reverse.qsc.de (Germany): 1 Visit Today (2 Total)
pp26.lubartow.sdi.tpnet.pl (Poland): 20 Visits Today (22 Total)
ppp-0-95.newc-a-1.access.uk.tiscali.com
ppp-247-177.25-151.libero.it (Italy): 3 Visits Today (3 Total)
ppp-68-23-10-130.dsl.ipltin.ameritech.n: 1 Visit Today (2 Total)
ppp194-93.vdial.verat.net: 2 Visits Today (2 Total)
premier-press.com
prosie2.acn.pl (Poland): 1 Visit Today (8 Total)
proxy-4v.club-internet.fr (France): 4 Visits Today (25 Total)
proxy-w.ccra-adrc.gc.ca (Canada)
proxy.ftn.ns.ac.yu (Yugoslavia): 5 Visits Today (6 Total)
proxy2.ihug.co.nz (New Zealand): 1 Visit Today (30 Total)
proxy2.siemens.ca (Canada): 2 Visits Today (3 Total)
proxys.ia2.marketscore.com: 2 Visits Today (10 Total)
proxys.or4.marketscore.com: 1 Visit Today (2 Total)
px3cv.gv.shawcable.net: 1 Visit Today (17 Total)
r200-40-167-111-dialup.adsl.anteldata.n
r200-40-249-102-dialup.adsl.anteldata.n
redgate.kcc.com: 1 Visit Today (13 Total)
res05923.rh.rit.edu
ri01-180.dialin.iskon.hr (Croatia)
rrcs-sw-24-153-237-15.biz.rr.com
rrcs-sw-24-173-34-238.biz.rr.com
rrcs-sw-24-173-62-73.biz.rr.com
s0.watsonpub2.bbnplanet.net: 2 Visits Today (2 Total)
s01i36-0100.no.powertech.net: 2 Visits Today (2 Total)
sag127.saginawcounty.com
sanpm3.accsandusky.com
sanpm4.accsandusky.com
sca3.hhshoppers.com
server.spl.si (Slovenia): 3 Visits Today (3 Total)
shin.stir.ac.uk (United Kingdom)
site1.glaverbel.com: 2 Visits Today (2 Total)
slip32-106-112-157.zag.hr.prserv.net: 14 Visits Today (14 Total)
smtp.wausau.k12.wi.us
spider-mtc-ac043.proxy.aol.com
spider-tf044.proxy.aol.com
spxwall2.spx.com
st02-190.dialin.iskon.hr (Croatia)
stl-proxy-03.boeing.com: 8 Visits Today (10 Total)
sudbury-cable-69-60-229-250.unitz.ca (Canada): 4 Visits Today (4 Total)
surf80.brose.de (Germany): 2 Visits Today (2 Total)
sw70-145-136.adsl.seed.net.tw (Taiwan)
sypp-p-144-138-184-245.prem.tmns.net.au (Australia): 2 Visits Today (2 Total)
terminal-1-152.retsat1.com.pl (Poland): 2 Visits Today (2 Total)
tg22.sharp.co.jp (Japan)
tor58-20-118-209.dialup.sprint-canada.n
toronto-hse-ppp3736617.sympatico.ca (Canada)
toronto-hse-ppp3736682.sympatico.ca (Canada)
toronto-hse-ppp3864116.sympatico.ca (Canada)
tproxy1.ntcu.net
ts001d0015.san-ca.xod.concentric.net
ts2-35.simplecom.net
ts46-03-qdr3085.mdfrd.or.charter.com: 2 Visits Today (21 Total)
ts46-04-qdr1013.mdfrd.or.charter.com: 1 Visit Today (69 Total)
ua220d80.elisa.omakaista.fi (Finland): 2 Visits Today (19 Total)
ugci.grey.com
unallocated.star.net.uk (United Kingdom): 1 Visit Today (10 Total)
usen-219x123x159x210.ap-us.usen.ad.jp (Japan)
user-10lfcob.cable.mindspring.com
user-10lffnb.cable.mindspring.com
user-38lc0fn.dialup.mindspring.com
user70.net0.whitworth.edu
usr21-wv1.blueyonder.co.uk (United Kingdom): 10 Visits Today (10 Total)
vanilla.ai.sri.com: 1 Visit Today (2 Total)
vdp007.the02.cas.hol.gr (Greece): 3 Visits Today (3 Total)
vo19-70.dial-up.volja.net
vpop-201.nccn.net
vss.sd57.bc.ca (Canada)
w114.z064220093.det-mi.dsl.cnc.net
wa135.neoplus.adsl.tpnet.pl (Poland)
warink01.chello.pl (Poland): 1 Visit Today (11 Total)
wc10.ym.rnc.net.cable.rogers.com: 1 Visit Today (20 Total)
webcache03.mas.optusnet.com.au (Australia): 2 Visits Today (9 Total)
webcacheb02a.cache.pol.co.uk (United Kingdom): 1 Visit Today (9 Total)
webjet1.ev1.net: 2 Visits Today (20 Total)
wfcntproxy1.chevrontexaco.com
wfcntproxy2.chevrontexaco.com: 2 Visits Today (2 Total)
windshear.msi.umn.edu: 2 Visits Today (5 Total)
wirelessxprs11940.htc.net
wks-217.echostar.com
www.hakgaenserndorf.ac.at (Austria)
www2.kauko.lt (Lithuania)
wxpp-p-144-138-186-65.prem.tmns.net.au (Australia)
xant530-a008.otenet.gr (Greece)
xd877f232.ip.e-nt.net
xdg182254.xunta.es (Spain)
zg03-040.dialin.iskon.hr (Croatia): 8 Visits Today (8 Total)
zg06-093.dialin.iskon.hr (Croatia): 5 Visits Today (5 Total)
zg07-108.dialin.iskon.hr (Croatia): 3 Visits Today (3 Total)
zg07-207.dialin.iskon.hr (Croatia)
zoekzone.com: 1 Visit Today (2 Total)
---